About us & The Story of the Black Box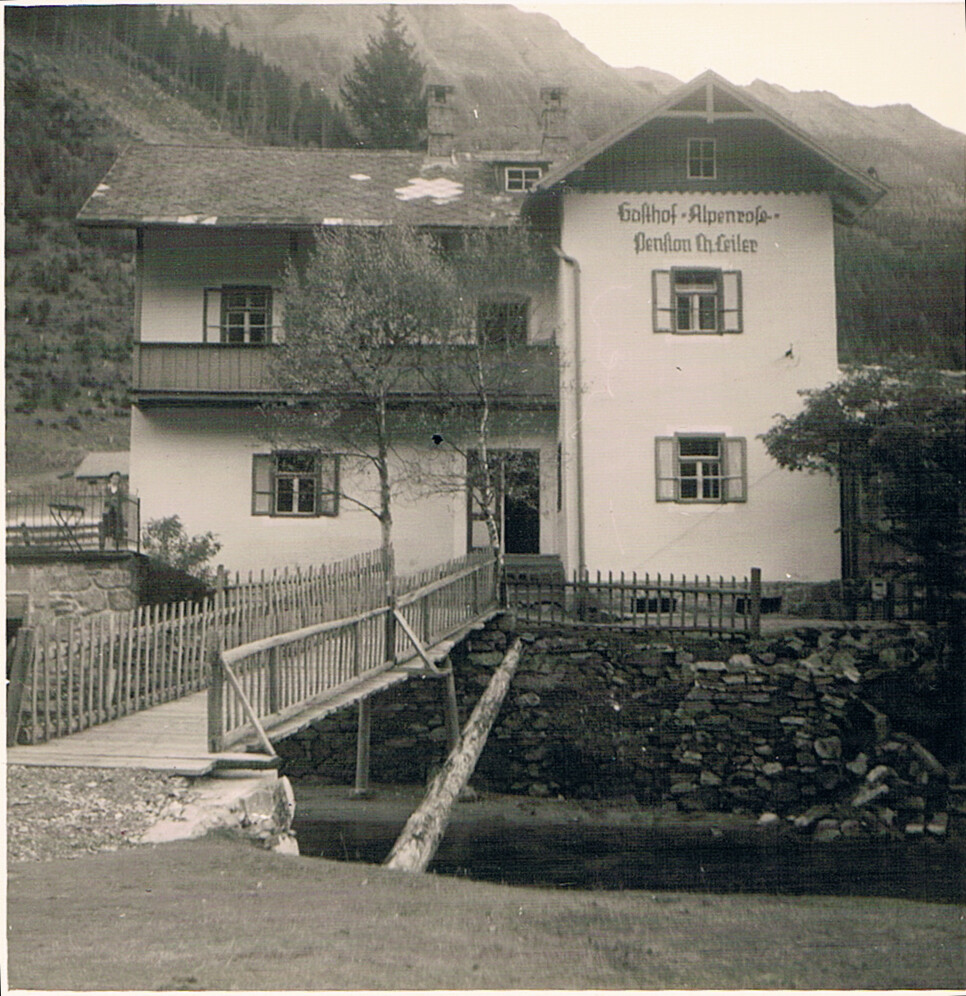 It was at the time between the two world wars when the young cook Christine Leiler, born under the maiden name Ronacher, decided that it was time to take a chance:
As a divorced woman and a single parent it had not been easy to find work or to settle down. Very often people exercised prejudices against her and her daughter.
But everything would change now:
With an inconspicuous black box in one hand and the five year old daughter in the other, and a list of potential locations she set out to find a new home for herself and her daughter.  
The selection of potential homesites consisted of:
A forest farm in Malta valley (Upper Carinthia)
The giant forest around the farm was so frightening for the little daughter that the mother decided against this option very quickly.
An old spa in Treibach Althofen (Lower Carinthia)
In the very beginning they liked the premises very much but when they found out that part of the deal was a casket full of old minced meat Christine felt so appalled that they decided against this object as well.
The Seehäusl (little lake house) in Mallnitz  
located in a very sunny place, surrounded by beautiful mountains, including a very scenic view, and a softly murmuring creek in front of the house.
That was it – the Seehäusl (the little lake house.
With a last glance at her daughter and the house, Christine knew that this was the right decision. She determinedly pulled out the black jewel box and handed over the contents to the very surprised seller of the house.
There were brilliants (diamonds), rings and other precious stones and pieces of jewelry. It was all that Christine had been able to save during her years as cook in Vienna , Italy, and South Tyrol (nowadays part of northern Italy).
The only thing she kept was a simple ring of gold with a small diamond and an old pocket watch. It would always serve as a watchful memory of the hard times for the clever business woman. 
The good news of the new inn keeper's excellent cuisine traveled fast and drew guests from the area as well as from abroad.  
Tradition continues, and the secret recipes of Christine Leiler's cuisine are only passed on to the next generation of her house.
Even today, the fame of the little lake house's lady cooks is spreading for their excellent, exquisite, and always extraordinary cooking.
History
1901 beginning of the train project "Connecting Triest to the industrialized north of the Habsburg empire"
07/1901 Ground breaking of the construction of the Tauern railroad
07/1909 Opening of operation of the Tauern railroads from Badgastein to Spittal
10/1909 Opening of the inn "Seehäusl" in Stappitz by the family Jos
1929 Christine Leiler (maiden name Ronacher) buys the inn Seehäusl and renames it "Alpenrose" (rose of the Alps)
04/1939 Christine Fercher senior (maiden name Leiler) takes over the "Alpenrose"
1959 Annex to the front part with the dining hall
1964/1965 Reconstruction of and annex to the upper floors
1991 Christine Fercher junior takes over the "Alpenrose"
2003 Annex to the Pavillion, Construction of the fireplace room
2013 Construction of the wood chip heating system
2020 Remodeling of the first floor